Development session for faculty members
A six-day faculty development programme (FDTP) on 'CMOS Analog IC Design', jointly sponsored by the Anna University, Chennai, was organised at the Sri Sairam Engineering College here recently.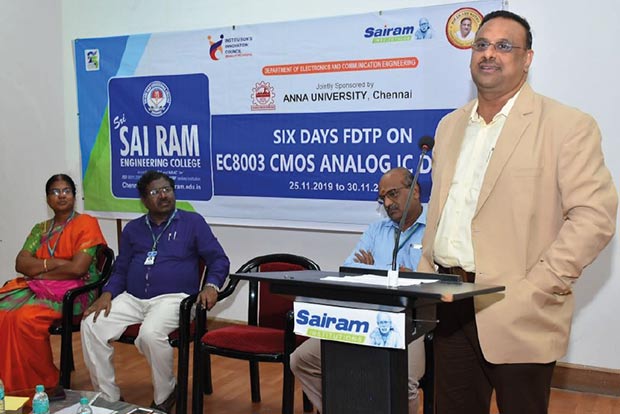 The chief guest interacting with faculty members at the six-day development programme recently
The objective of this FDTP, organised by the college's Department of Electronics and Communication Engineering (ECE), was to enrich the knowledge of faculty members of various colleges affiliated to the University through interaction with resource persons from industry and academics in the field of IC Design.
Around 30 faculty members from various institutions in and around Chennai participated. The event was inaugurated by the chief guest M Sankar Subramanian, CEO, CHIP TEST, An IC test Service Company.
The sessions were handled by resource persons such as Raja Paul Perinbam (Visiting Professor Kings Engineering College), V Vaithianathan (Associate Professor, SSN College of Engineering), S Kumaravel (Associate Professor, VIT, Vellore), Prof V S Sundaramoorthy (Sri Sairam Engineering College), Vijendra (Application Engineer, CoreEL Technologies) among others.
The topics covered were Introduction to Analog Design, Basic concepts of Amplifiers , Concepts of Analog Design, General consideration of MOS devices, MOS I/V Characteristics, MOS device models etc.
Apart from that, hands on training were given on Design tools for CMOS Analog ICs, Feedback circuits of amplifiers and operational amplifier design.