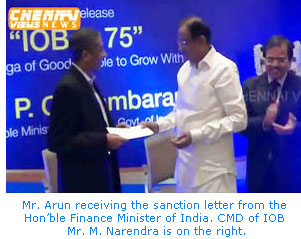 Recognizing SPEL's Green initiatives, the Indian Overseas Bank (IOB) offered a loan towards furthering horticulture within SPEL's sprawling 22 acre campus.

The Hon'ble Finance Minister of India, Mr. P. Chidambaram handed over the sanction letter to Mr. Ar Rm Arun, Chairman Valingro and Director SPEL during "IOB @ 75", a book release function conducted by IOB on Dec 22, 2012 at hotel ITC Grand Chola.

More on SPEL's Green Initiatives

SPEL has a sprawling 22 acre campus where it maintains an environment friendly atmosphere. 1,400 trees are currently growing within the Factory, consisting of various varieties of flowering & as well as greening trees. SPEL is in the process of planting more trees thereby further increasing the green cover.

In addition to this, SPEL has also ensured the following initiatives :
SPEL's Rainwater Harvesting initiative is one of the biggest in Kancheepuram district. The water holding capacity is 1.5 million liters with numerous percolation wells. This has helped drastically increase PH levels not only within the Factory but importantly across the neighborhood as well.
SPEL has a Zero discharge of waste water - water is recycled & reused. Not only is this water being used for vegetation, but is also being used to grow ornamental fish.
Our Lead-free electro-plating line was inaugurated by Mr. P. Chidambaram, Union Finance Minister on Sep 10, 2006.
Green Mold compound is used for the encapsulation purpose