Agara Mudala Ezuthellam Aadhi
Bhagavan Mudhatre ulagu

Valingro Cultural and Sports Committee organized a Debate on Ethics in today's scenario titled Indriya Kalacharam Valarchiya? Veezchiya?. The interactive discussion was held on Aug 25, 2012 at the SPEL premises.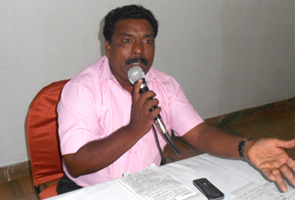 Media fame from Asathapovathu Yaaru & Kalakkapovathu Yaaru, Mr. J. Krubanandam had kindly consented to judge the debate and provide his valuable inputs.



Participants for Kalachara Valarchi Participants for Kalachara Veezchi


India is a country with diverse cultures. However the influence of the western world has not spared our population too. Growing trends and social pressures have particularly directed our youth towards compromises on our traditions, principles and values.

The Judge's verdict was unmistakably 'Kalacharam Veezchiye' (Today's Culture contributes towards Destruction). Mr. Krubanandam's final remarks were an awakening to all that India is a country valued for its rich culture and traditions and any dilution will only cause a negative impact.

Valingro Employees went a further step by impressing the Judge Mr. J. Krubanandam who commended the speech of one of the participants Mr. Lakshmanakumar. He was also given the title 'Senthamizh Selvan' amidst loud applause.

VCSC Congratulates Mr. Lakshmanakumar on his literary knowledge and debating skills.